We are proud to announce a true honor. Ford Motor Com. has awarded Randall Reed, owner of Randall Reed's Planet Lincoln in Spring (serving The Woodlands and greater Houston) and the World Class Automotive Group, with its Salute to Dealers recognition for providing outstanding products and services while improving the lives of individuals and their communities at his Planet Ford store in Humble, Texas.

This video, presented at Salute to Dealers, shows how much the Reeds and our  dealerships truly care about our communities…

Salute to Dealers is a Ford community service initiative that identifies and recognizes Dealer Principals who improve the lives of those in need. "The dealer nominees' and honorees' impact on their communities is extraordinary! Each year, as a group, they provide support for and participate in hundreds of programs for a multitude of worthy causes," according to the award recognition statement.
Mr. Reed was nominated for recognition in Ford's Houston Region based on his commitment to community, furthering education and assisting children with special needs. His donations and leadership provide support to battered services including women's shelters and school systems with items including books, computers, I-pads, band instruments, fixtures, facilities and playgrounds. In addition, Mr. Reed and his team help raise funds for centers that assist families and children with learning disabilities.
Moreover, for the past two years, the Reed family has led the effort within the Humble Independent School District to provide an annual Teacher of the Year award that includes a gala event at which he presents a new Ford vehicle to the top educator. This year, his generosity has expanded to include additional teacher and student scholarship recognition in other communities where he owns automotive dealerships.
"Over the past 25 years, our family of Texas dealerships has won dozens of awards, but this one, by far, is the one I cherish the most," said Mr. Reed.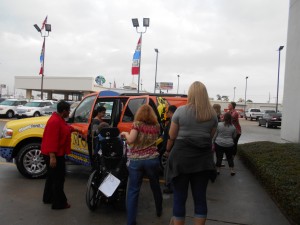 An example of this is that while shooting the recognition video for Edsel Ford at the National Automotive Dealers Association annual meeting, Mr. Reed spoke with the local representative of the Best Buddies and Mosaic programs, which assists and also provides transportation for children and people with special needs. He learned the group was in need of a safer vehicle, so his Planet Ford family promptly arranged for the donation of a 2013 Ford Expedition.
Ford honored Mr. Reed at the National Automobile Dealer Association (NADA) Convention in New Orleans, LA on January 24. The honorees received a portrait that captures the dealers' involvement in their communities. The portrait will be included in the Salute to Dealers exhibit in the lobby of Ford's World Headquarters in Detroit, MI. It will join those of previous Salute to Dealers honorees for perpetuity.

"The gifted man bears his gifts into the world, not for his own benefit, but for the people among whom he is placed; for the gifts are not his, he himself is a gift to the community." ~ HENRY FORD, 1926